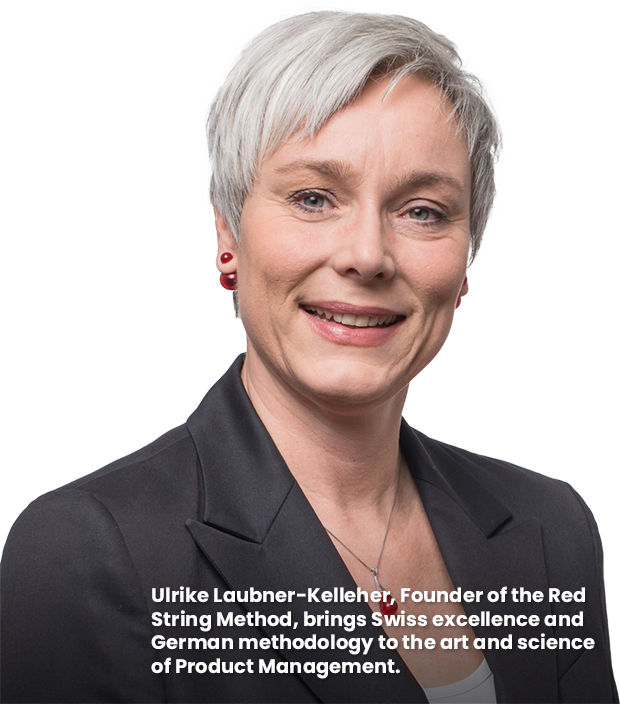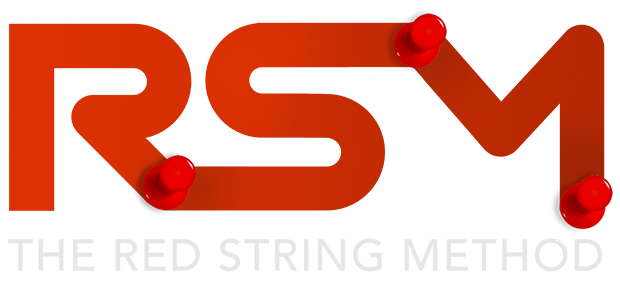 Imagine cutting down your product development cycle by half and going to market with the products your customers really want.
Do you want to systemize your product management to get better results?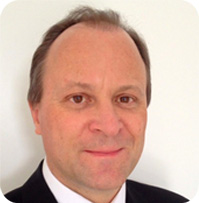 "
I now have a tool to be systematic as a Product Manager. I need to talk to customers more. My colleagues will understand what I do as a Product Manager.
Neurobat AG, R. Lanz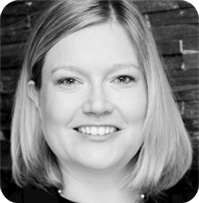 "
Thank you again for the great training days. It has moved a lot internally here and we will certainly be able to push the restructuring faster.
B. Brennecke, Head of Marketing Elementar
The Red String MethodTM streamlines product management to improve profits by up to 30%
Every year, companies waste millions in product management simply because they lack a system and tools to find, and use relevant customer feedback, market data for product strategies, requirement prioritization, and marketing.
Companies of any size miss product launch deadlines because they are uncertain about the product to market fit.
Efficient product managers impact the product profitability by up to 30% and create a 20% higher customer satisfaction. Between 8-24 hours per week are wasted searching for information and answering unnecessary questions that could be allocated to essential strategic tasks.
What are the benefits of a systematic workflow?
The Red String Method is designed to connect all the product management dots to reduce the innovation to market launch cycle by up to 60%.
We teach product teams how to identify customer needs, research the market, and create product strategies with genuine customer value, all based on market facts. Market data is the number one success factor to communicate efficiently across development and marketing teams and to innovate rapidly, identify cost savings and plan impactful marketing campaigns.
Learn remotely in small group classes or masterclasses in the unique RSM system and get all your digital tools.
We support your implementation process following each company training whether onsite or remotely.
The Red String Method is effective for any product development environment, including for Tech & Software
The Red String Method trains product teams to become market experts who deliver innovation on time.
I developed the Red String Method (RSM) to connect people to process to product. RSM allows product managers to rapidly define the role and tasks of product team members and equip them with a unique product management system to transition from active to proactive professional product experts.
How will we impact your Product Development Cycle?
By training in best-practices skills and a systematic workflow, we enable both new and experienced product managers to become data literate and trusted market experts, thus eliminating recurring discussions, unnecessary floods of emails, meetings, and frustrations.
Product teams know how to focus on their tasks and free the essential time needed to acquire the market-driven information that speeds up decision-making, development and improves ROI.
Why our training program makes a difference?
With the "done for you tools" you make the shift to a customer and market-oriented mindset to move away from gut-feeling and a permanent change culture to build sustainable roadmaps, thus avoiding delays that damage your reputation and keep you from meeting your business goals and profit targets.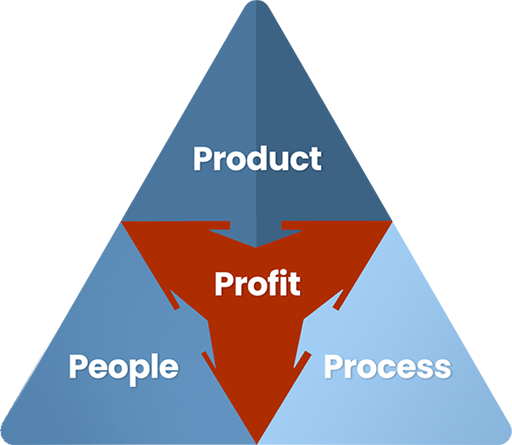 The People-Process-Product Pyramid
The structured Red String Method has been recognized to create a rapid impact yielding immediate tangible improvements in the product management process by strengthening product managers' skills.
Sign up for your Red String Method training
Learn in remote small group classes or masterclasses the unique systems and get all digital tools.
After each company training onsite or remote we support your implementation process.
What RSM Training Attendees are saying
"
Through the preparatory self-study, the joint repetition of material and the practical exercise examples, it is possible to convey the most important knowledge and skills related to strategic and technical product management in a very short time. I can recommend participation without reservation
Simon Mayer – linrob GmbH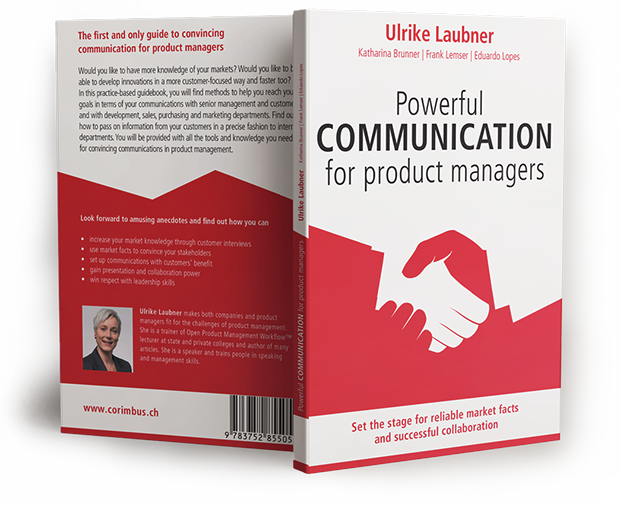 Powerful Communication
for Product Managers
I have built my career around learning what are the best tools and methods needed by product managers to design a great product and to communicate satisfactorily across the company, to enjoy their work and be successful at it.
In this 2nd book I share all that I have learnt from various industries during the past 25 years to teach product managers the secrets to become one of the best assets for their company, and it all starts with communication. Communication remains the most important skill that HR is looking for when hiring product managers.
Time to systemize your product management?
Contact Ulrike to schedule your tailored RSM Advisory to raise product management productivity and create a team of highly engaged product managers who are committed for the long-term.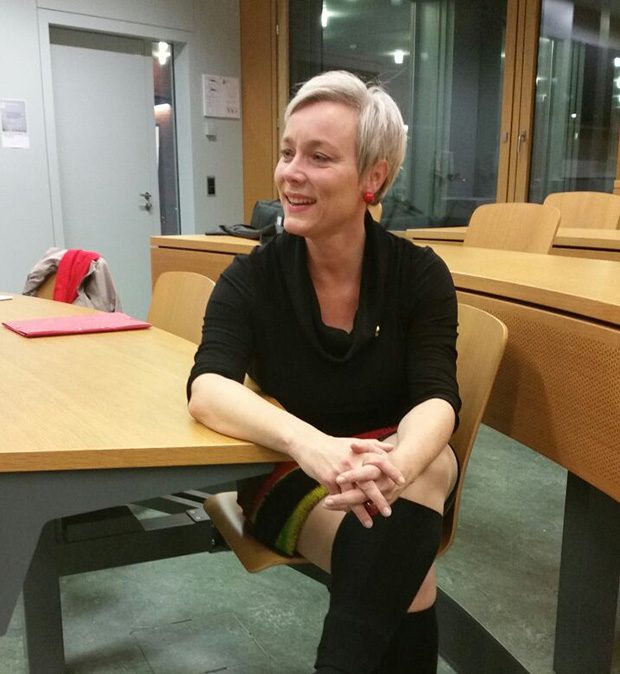 About Ulrike Laubner-Kelleher
Ulrike is an engineer and published author who lives her passion for happy people, smart processes, and attractive products and whose method has been proven with global brands such as UBS, ABL, RRC – Power Solutions, Wikimedia, Elementar, Bystronic, Milwaukee Tools, JP3 and Scotiabank among others.
For over 25 years, she has been training and advising companies of various industries on how best to introduce their products to the market and to regain or maintain industry leadership.
Her proprietary Red String Method has allowed her clients to rapidly transition their investment and development decisions from inefficient to efficient for the benefit of all product stakeholders.
The secret to her success is her ability to teach her clients how implement a culture of decision-making and communication based on real market data plus systemizing the product management tasks throughout the product life cycle.
More Ulrike Laubner-Kelleher Publications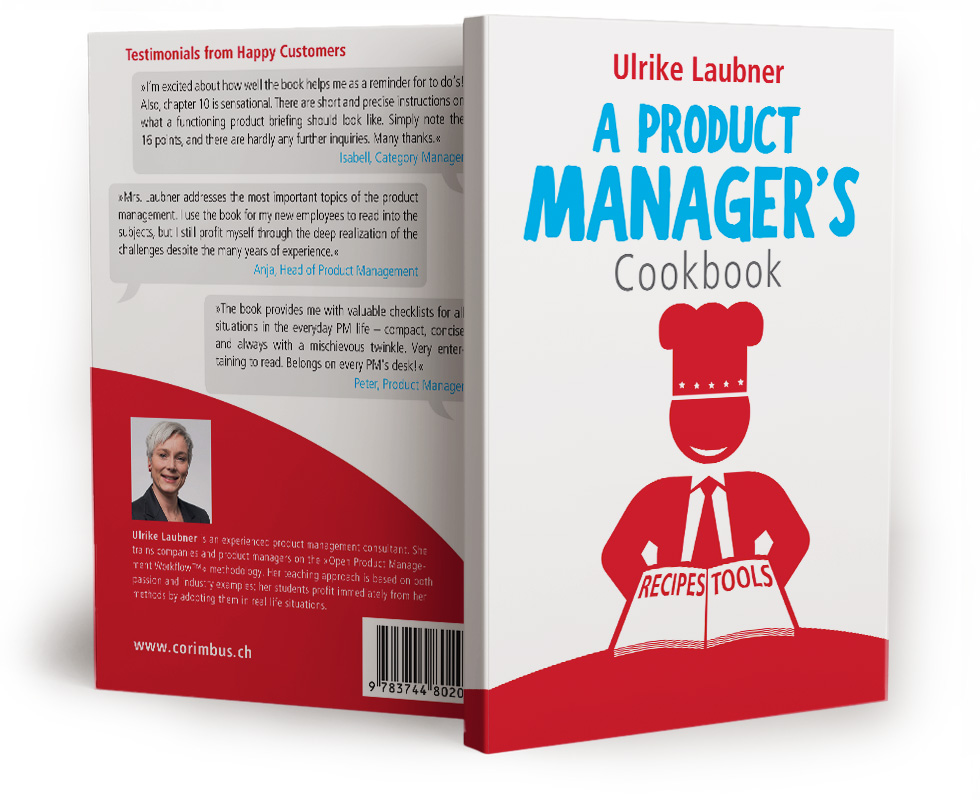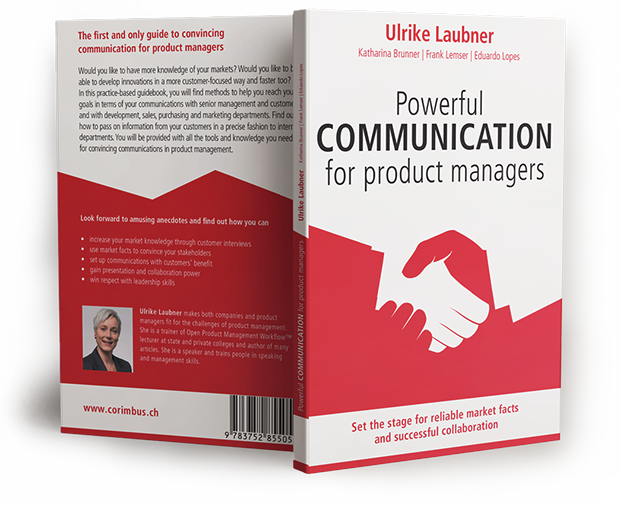 Streamline your product management process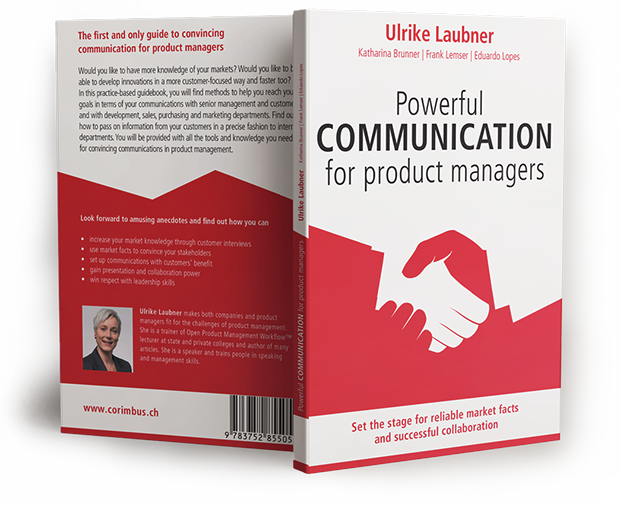 Download Free Chapters
Powerful Communication
for Product Managers